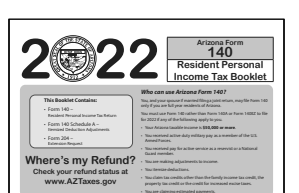 APA has just been granted Qualified Charitable Organization (QCO) status for 2023 by the Arizona Department of Revenue. That means you still have time to donate to APA and receive charitable tax credit for up to $400 for individual taxpayers or $800 for joint filers on your 2022 state tax returns.
Arizona law allows QCO donations made January 1, 2023 through April 18, 2023 to be claimed on either your 2022 or 2023 Arizona income tax return. Charitable Tax Credits are subtracted from the balance you owe in state taxes after all other contributions have been itemized and deducted on your Arizona income tax return.
For example:
You give $800 to APA (max for couples filing jointly)
You subtract $800 from your Arizona Income Tax obligation
Net Cost $ 0 Your gift to APA is zero cost to you!
If the allowable tax credit is more than your tax or if you have no tax, you may carry the unused credit forward for up to the next five consecutive taxable years' income tax liability.
To claim an Arizona Charitable Tax Credit on your 2022 income tax return, send your gift to APA now … on or before April 18, 2023. Click here to contribute online… or mail a check or money order to:
Asylum Program of Arizona
PO Box 41001
Tucson, Arizona 85717
Charitable Tax Credit contributions to APA help provide legal assistance to immigrant survivors of persecution in their cases for asylum or relief under the United Nations Convention Against Torture. Ask your financial advisor about how you can put your tax dollars to work in this truly meaningful way.